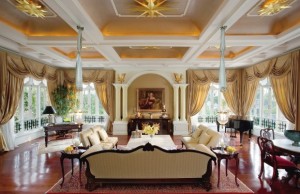 How do you clean a luxurious living room in a multi-million pound property? This is one of the many questions we usually ask potential housekeepers and cleaners at an interview; to ensure that they are fit to work for our HNW clientele. Dust is probably the biggest bugbear for owners of lavish properties or buildings. Chic living rooms, beautiful floor to ceiling windows, luxurious fireplaces and exquisite furniture… The sheer quantity of objects that clients keep in their properties plays a central role in the attraction of dust. Our duty is to keep the properties and everything within them spotless and sanitary. We don't just want things to look good, we want them to last long too.
Clocks
When it comes to cleaning a wind-up clock, it is all about paying attention to detail. As with any good mechanical clock, carefully maintaining the internal mechanism will prevent unnecessary damage.
Fireplaces
Ironically, fireplace cleaning is simpler during the wood-burning season and becomes trickier when it is not in use. Throughout the fire-burning season, cleaning will mostly consist of taking out some of the ashes from time to time. The fireplace will actually work best when a thin layer of ash remains.
Furniture
If your furniture has an oiled finish, all you should do is dust and re-oil it. If it has a hard finish – such as varnish or lacquer – you have a few other options. Dusting it with a dry cloth is the best way to clean oiled furniture. Check that the cloth is soft and button-free, zip-free and free of anything else that might scratch the wood. Then apply oil to the wood (boiled linseed oil, teak oil or an oil recommended by the furniture's manufacturer). Rub the oil in with a clean cloth. Do this approximately once a month. If you have been negligent, re-oil your furniture fortnightly for a couple of months to allow it to catch up on any oil that has missed out on. To protect oiled furniture, never put cloth items or water on it. Cloth items will absorb the moisture from the oil and dry out your furniture. Ironically, oil offers the least protection of any finish – get any water on it and it's ruined – yet it requires the highest maintenance.
Glass furniture
Imagine you are cleaning a horizontal mirror and you will get the general idea for cleaning glass-topped tables and similar items. Apply the cleaning solution – 1 part white vinegar, 4 parts water from a spray bottle directly onto your cloth, then rub into the glass. To avoid fingermarks, do not hold onto the table as you clean. Also be mindful that glass can easily be broken. Clean glass furniture as the final stage of your room clean.
Lamps
Cleaning your lamps does not only make them look better, but it also makes them shine brighter. Use microfiber cloth to remove dust from both the lamp and the light-bulb. The brush attachment of the hoover is another option which works better on some materials such as unglazed pottery or wood. The more regularly you dust, the less often you will need to clean thoroughly.
Leather
Frequent dusting is also key with regards to cleaning natural leather. Coated leathers should be dusted regularly with a cloth, and washed every six months or so with saddle soap. A few general guidelines apply to both kinds of leather:
• Follow cleaning directions from the manufacturer
• Test any cleaning method on a small area before using it everywhere
• Never dry wet leather near a heat source
• Avoid harsh cleaners and excessive water, which can leave satins and remove dye and lubricants
• For any valuable leather article or serious cleaning problem, consult a professional, such as a dry-cleaner who specializes in cleaning leather
Light fixtures
To clean a wall or ceiling fixture, first turn off the switch and have a stepladder in arm's reach. Remove any grilles, shades, shields, globes, light bulbs or light tubes. To wash the removable parts, fill the sink with hot water and add some washing-up liquid. Put a towel or rubber mat on the bottom of the sink to prevent damage. Immerse the pieces – except for the light bulbs or light tubes, because of the ends that go into the sockets. To wash the fixed parts, use a cloth or sponge dipped into the same cleaning solution and squeezed until it's as dry as it can get. Wipe the fixture, being careful not to get any moisture in the socket or on the wiring. Rinse the sponge or cloth in clean water and wipe the fixture with it again. Dry everything with another cloth and reassemble the fixture.
Televisions
Always ensure that the television is unplugged before you clean it. Again, you are likely to encounter a significant amount of dust whilst cleaning the television. However often you clean, it will always appear to come back, even thicker and more static. It is just something you must be prepared for. Identifying the type of screen you have plays an important role. Only standard tubes and flat screens can be wiped with a wet cleaner. Liquid crystal displays screens, should be wiped clean with a dry cotton cloth. You could also use an an electrostatic dust cloth. Consult the TV's handbook. If the TV came with a cleaning kit, use it.
Vases
As well as looking awful, dirty vases reduce the lifespan of cut flowers. Residue, including algal growths, plugs up the stems and causes flowers to dry up quicker. The simplest way to clean vases is to scrub them with hot, soapy water and a bottle brush. Rinse properly and let them dry completely before storing.