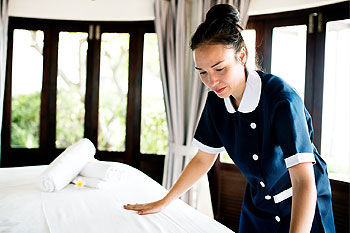 Many of our clients look for top-notch housekeepers to care for their homes and every household requires a different type of housekeeper.  At The Hazel Agency, we offer a wide range of housekeepers that differ in experience and skill sets that match your needs for your home.  If you are looking for a highly experienced housekeeper, you should consider hiring an Executive Housekeeper who has extensive experience cleaning fine homes and private residences. Most Executive Housekeepers are able to function as both the House Manager and hands-on Housekeeper.  They can manage additional staff, interface with vendors and interact as necessary with the principle.
Here is a sample list of services they provide:
Deep and detail cleaning
Dusting and polishing antiques, furniture and fixtures
Staff training, discipline & management
Supervision of household contractors & vendors
Wardrobe management (care of couture clothing)
Steaming and cleaning draperies, cleaning blinds
Errands
Antique & silver care
Guest reception & service
Fine laundering
Monitoring cleaning supplies and ordering more as needed
Reporting any necessary repairs or replacements
Assisting during holiday's and events
Formal serving and setting up tables
Light meal preparation
Email/text communication
When searching for experienced household staff, it is important to work with a trusted professional who can guide you through the process and make sure your service needs are met both before and after the hire. We offer several customized options to reach the most extensive network of private service candidates available, and always represent you with the utmost professionalism and discretion. Connect with our office today to discuss your needs and find the right executive housekeeper for your home.