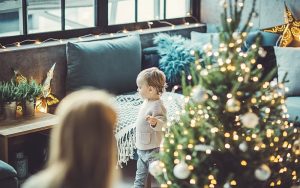 The holiday season means visits from family and friends. But before the whole family gathers under one roof, follow these safety tips to make sure your home is a safe and healthy place for everyone.
Merry and Bright: Carefully inspect Christmas light strings each year and discard any with frayed cords, cracked lamp holders, or loose connections. When replacing bulbs, unplug the light string and be sure to match voltage and wattage to the original bulb.
Lights Out: Always turn off holiday lights when you leave the house unattended or when going to bed.
Fresh Is Best: Try to purchase a freshly cut tree, as they are more resistant to ignition. Keep your Christmas tree watered and away from open candles.
Timing Is Everything: Use an outdoor timer certified by CSA International to switch lights on and off. Lights should be turned on after 7 p.m. to avoid the electricity rush hour.
One and Done: Never connect more than one extension cord together; instead use a single cord that is long enough to reach the outlet without stretching, but not so long that it can get easily tangled.
The Great Outdoors: When hanging outdoor lights, keep electrical connectors off the ground and away from metal rain gutters. Use insulated tape or plastic clips instead of metal nails or tacks to hold them in place.
Do Not Overload: Overloaded electrical outlets and faulty wires are a common cause of holiday fires. Avoid overloading outlets and plug only one high-wattage into each outlet at a time.
Practice Fire Safety: With holiday lights, candles, fireplaces and lots of cooking in the kitchen, it's important to be prepared in case of a fire. Safeguard your family by keeping a fire extinguisher on hand. Install smoke and carbon monoxide detectors throughout your home, checking the batteries frequently to make sure they work.
Sound the Alarm: Test your smoke alarms monthly to make sure they work, and be sure to install smoke and carbon monoxide (CO) alarms on every level of your home — especially near sleeping areas.
Filter-Friendly Furnace: To help prevent CO hazards in your home, have a qualified heating contractor perform a yearly maintenance check of your furnace and venting system, and clean or replace your furnace filter frequently during the heating seasons.
Beware of Poisonous Plants: While festive, poinsettias are poisonous when eaten, so keep them out of reach of kids and pets.
Wishing you a Safe and Happy Holiday Season!